Imagination Station makes learning EXCITING & FUN!
Vote for Issue 2
REPLACEMENT LEVY
$6.91 A YEAR FOR A $100,000 HOME
SMALLEST REQUEST ON THE NOVEMBER BALLOT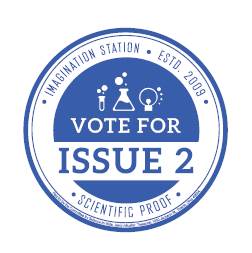 The Facts
Everything you need to know about Issue 2.
The science center is requesting to replace its current five-year, 0.17 mill property tax levy with a 0.1975 mill property tax levy.
This levy will cost just $6.91 per $100,000 home per year.
Funds generated from the 2021 levy replacement will total approximately $1.5 million annually, which represents 27% of the science center's annual operating budget.
Levy funds support temporary exhibitions, educational outreach, maintenance, new programs
Imagination Station's levy is the smallest on the 2021 Lucas County General Election Ballot.
This levy will not be collected until after the initial levy expires in 2023.
Our benefits to Lucas County will continue including admission discounts, free Saturday admission and films for kids.
We Are Your Science Center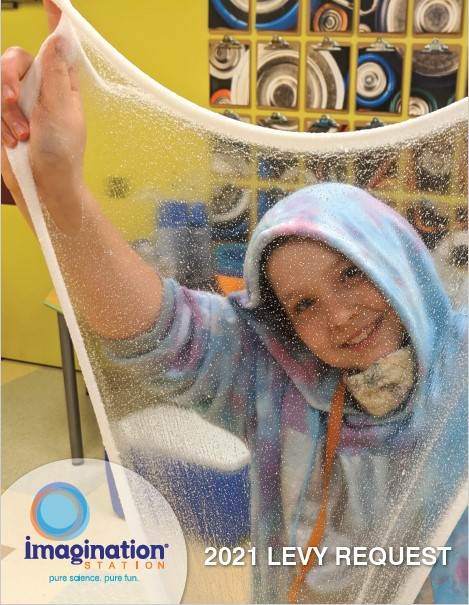 Imagination Station has been a proud part of the fabric of Toledo and Lucas County since 2009. Our Team takes its responsibility to the community seriously and has used support from levy funds to turn
the science center into a vibrant educational and cultural resource for Lucas County.
The last year and a half, we shifted all of our outreach and programming opportunities to ensure that we were meeting the needs of students, teachers, members and the community at large - whatever that looked like for them.
We look forward to continuing to be the area's resource for exciting and meaningful STEM experiences.
Still have questions?
Our Mission Never Ends
Imagination Station is a nonprofit science center. Our mission is to serve our community by providing informal science education and fun in order to spark a passion for the sciences by combining interactive exhibits and educational programming.
In the last 12 years Imagination Station has:
Welcomed more than 2 MILLION visitors
Served nearly 420,000 educators and students through onsite programs
Provided FREE Saturday admission to 61,000 Lucas County kids
Created countless memories for kids and families in the region
Virtual Reality
In 2020, the world changed and so did the way we brought STEM to you. Imagination Station:
Delivered 365 virtual programs during 2020 and beyond
Created and distributed 4,300 activity kits for kids in the community
Hosted 50 Virtual Field Trips with TPS fifth grade students
Produced 114 videos with at-home science experiments that garnered more than 42,000 YouTube view
Fostering Success, One Student at a Time
Through one-of-a-kind experiences, events and exhibits, Imagination Station creates experiences that will spark a passion for STEM.
For the last 6 years, Girl Power! has connected hundreds of girls with local female STEM professionals in an effort to immerse them in the possibilities of Science, Technology, Engineering and Math.
An exciting roster of 20 temporary exhibits, like Body Worlds RX and Titanic, has stimulated the minds of learners of all ages.
Issue 2 Endorsements
Thank you for your support!
AFSCME Ohio Council 8
Associated General Contractors of Northwest Ohio, Inc.
Iron Workers Local 55
Sheet Metal Workers' Local 33
Teamsters Local 20
Sheet Metal Workers' Local 3
Toledo Federation of Teachers
Toledo Regional Chamber of Commerce