Explore the Wonders of Science
Lucas County Kids Get Free Admission Every Saturday!
Science After Dark On Tap: Holiday Brews
'Tis the season for holiday brews!  
... and this season we're celebrating breweries and beer brewed right here in our area. Come spread some cheer, learn the science behind beer making and taste some of the BEST local beers.
With three different ticket options, you can customize your experience. All include access to everything Imagination Station has to offer. And did we mention SIX local breweries will be here ready to tap the kegs with you!
Get your tickets today!
Science After Dark On Tap: Holiday Brews
The Science of Guinness World Records!
Be Amazed. Be Amazing.
For the first time ever, we're looking into the science behind mesmerizing accomplishments with this interactive exhibition. It's time to go behind the scenes and see what it takes. Hear the stories of those who set out to break new ground and succeeded. Learn the secrets and then try it for yourself.
The Science of Guinness World Records is free with admission or membership to the science center.
Stop by and Achieve Amazing!
The Science of Guinness World Records
Think Tank: Gingerbread Houses
What do engineering, geometry and holiday sweets have in common? These are some of the ingredients needed to make a festive, candy-covered Gingerbread House!
Join us in Imagination Station's Think Tank for a hands-on workshop filled with creativity, imagination, engineering and holiday spirit. Making a gingerbread house isn't has difficult as it might seem. With the right recipes, tools and techniques, it's a snap for the whole family!
Don't make a mess at your house - come to the science center and we'll take care of the rest!
Think Tank Workshops
Previous
Next
There are currently no events scheduled for this date.
Learn about our membership benefits.
Get your science fix whenever you want AND support vital STEM education efforts with an Imagination Station membership. Not only will you receive free admission to the science center and discounted parking, but an Imagination Station membership also gives you access to over 300 reciprocating science centers around the world!  We have a membership option for every family!
Unlimited admission to the science center
Discounted parking
Reciprocating membership benefits with over 300 science centers
Free simulator rides
Members-Only events
Discounted pricing to temporary exhibitions
10% discount in Science2Go! and Atomic Café
Discounts on educational programs
A subscription to our Discover.e digital newsletter
Imagination Station's KeyBank Discovery Theater is a premium, large-format venue that offers an immersive experience unlike any other. Families, young adults, lifelong learners, school groups and visitors will find education and entertainment in the heart of downtown Toledo.
This state-of-the-art, multipurpose facility redefines movie going as we know it with a broad spectrum of films covering topics not otherwise accessible for most viewers like, nature and wildlife, arts and entertainment and adventure and exploration. Other exciting opportunities include video gaming tournaments, seasonal family movie nights, guest lecture series, live feeds of national and international events and other special events.
This addition to Imagination Station will entertain and delight audiences of all ages and for generations to come.
Learn About the Theater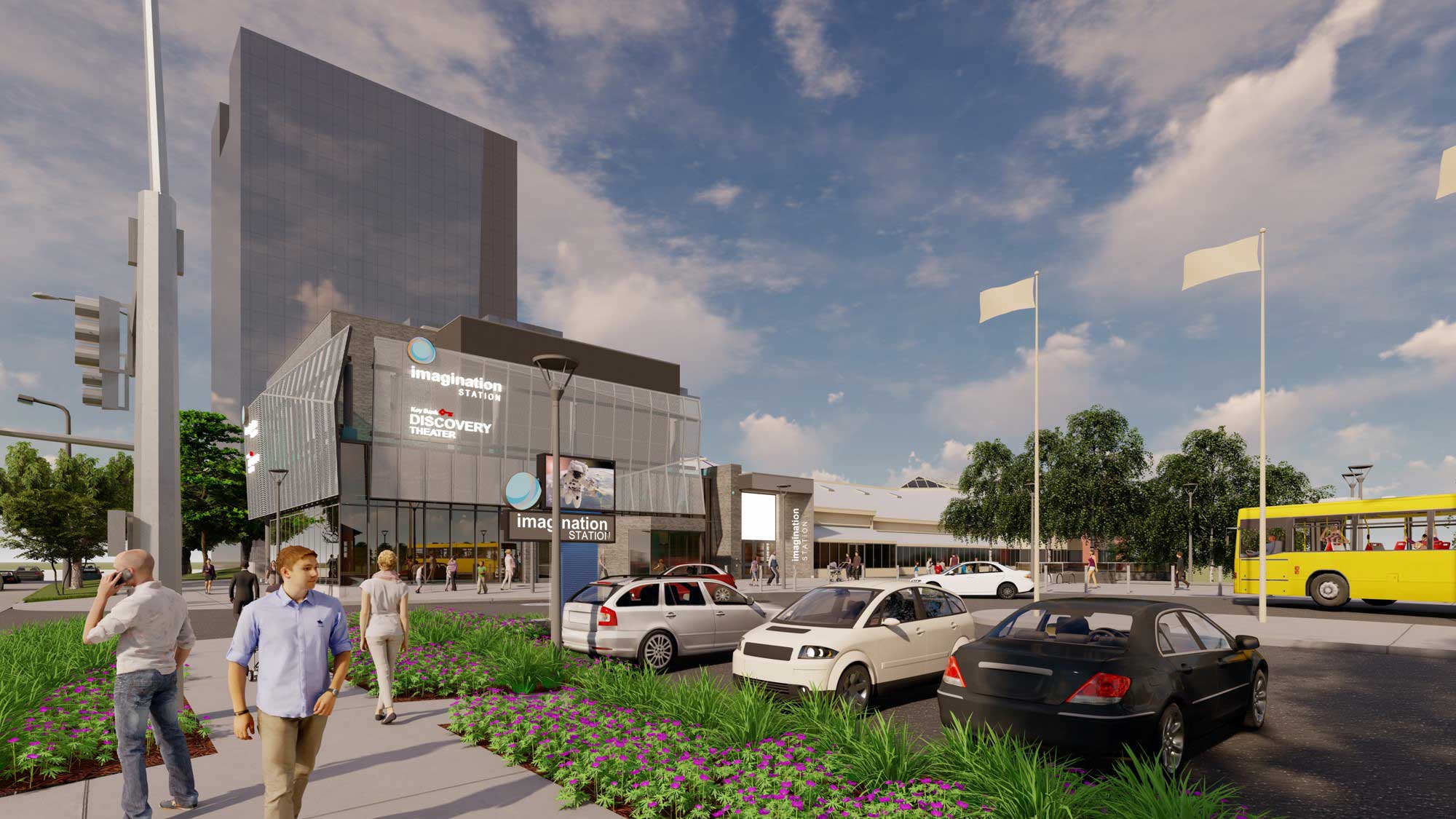 Imagination Station's address of 1 Discovery Way may not be listed on your map. You may choose to use the address – Summit St. and Adams St., Toledo, OH 43604, or the link below for detailed directions to Imagination Station from any location. We suggest checking for road construction before your trip.
ADDRESS
1 Discovery Way
Toledo, OH 43604
QUESTIONS?
Have questions about directions or parking at Imagination Station, click the link below!