We're Back!
Imagination Station is open Friday-Sunday!
We can't wait to see you!
Hot Summer, Cool Science! Summer Camps!
Research shows the summer months can be a time of learning loss for kids. Combine this with the challenges of the last school year and the importance of providing high-quality educational enrichment over summer break is clear. Imagination Station can help!
Sign up for a week ... or two ... or three of Summer Camp! We offer multiple topics from space to computer coding, to fit any camper's interest. Join us for a Summer of Science!
Summer Camp
Reopening Responsibly
As an organization dedicated to science education, the health and well-being of our members, visitors and Team is the top priority.
We want to meet all families where they are now and are working hard to provide and create different options that will meet those needs.
Whether you're visiting us in person, taking part in a virtual workshop or choosing to privately rent space at Imagination Station, we want everyone to have peace of mind while discovering the wonders of science.
Reopening Responsibly
Parking & Construction
Downtown Toledo is changing in a BIG way! Summit street from Lafayette to Jackson is in the middle of a facelift, from replacing a 150-year-old water line to new pedestrian walkways construction crews are working to update one of downtown's major thoroughfares.
While we can't wait for the finished product, all of this construction makes travel tricky. Every week, we'll update you on road closures and detours to get you and your family to the science center safely and efficiently. We'll see you soon!
Parking and Construction Updates
Previous
Next
Learn about our membership benefits.
Get your science fix whenever you want AND support vital STEM education efforts with an Imagination Station membership. Not only will you receive free admission to the science center and discounted parking, but an Imagination Station membership also gives you access to over 300 reciprocating science centers around the world!  We have a membership option for every family!
Unlimited admission to the science center
Discounted parking
Reciprocating membership benefits with over 300 science centers
Free simulator rides
Members-Only events
Discounted pricing to temporary exhibitions
10% discount in Science2Go! and Atomic Café
Discounts on educational programs
A subscription to our Discover.e digital newsletter
Imagination Station's KeyBank Discovery Theater is a premium, large-format venue that offers an immersive experience unlike any other. Families, young adults, lifelong learners, school groups and visitors will find education and entertainment in the heart of downtown Toledo.
This state-of-the-art, multipurpose facility redefines movie going as we know it with a broad spectrum of films covering topics not otherwise accessible for most viewers like, nature and wildlife, arts and entertainment and adventure and exploration. Other exciting opportunities include video gaming tournaments, seasonal family movie nights, guest lecture series, live feeds of national and international events and other special events.
This addition to Imagination Station will entertain and delight audiences of all ages and for generations to come.
Learn About the Theater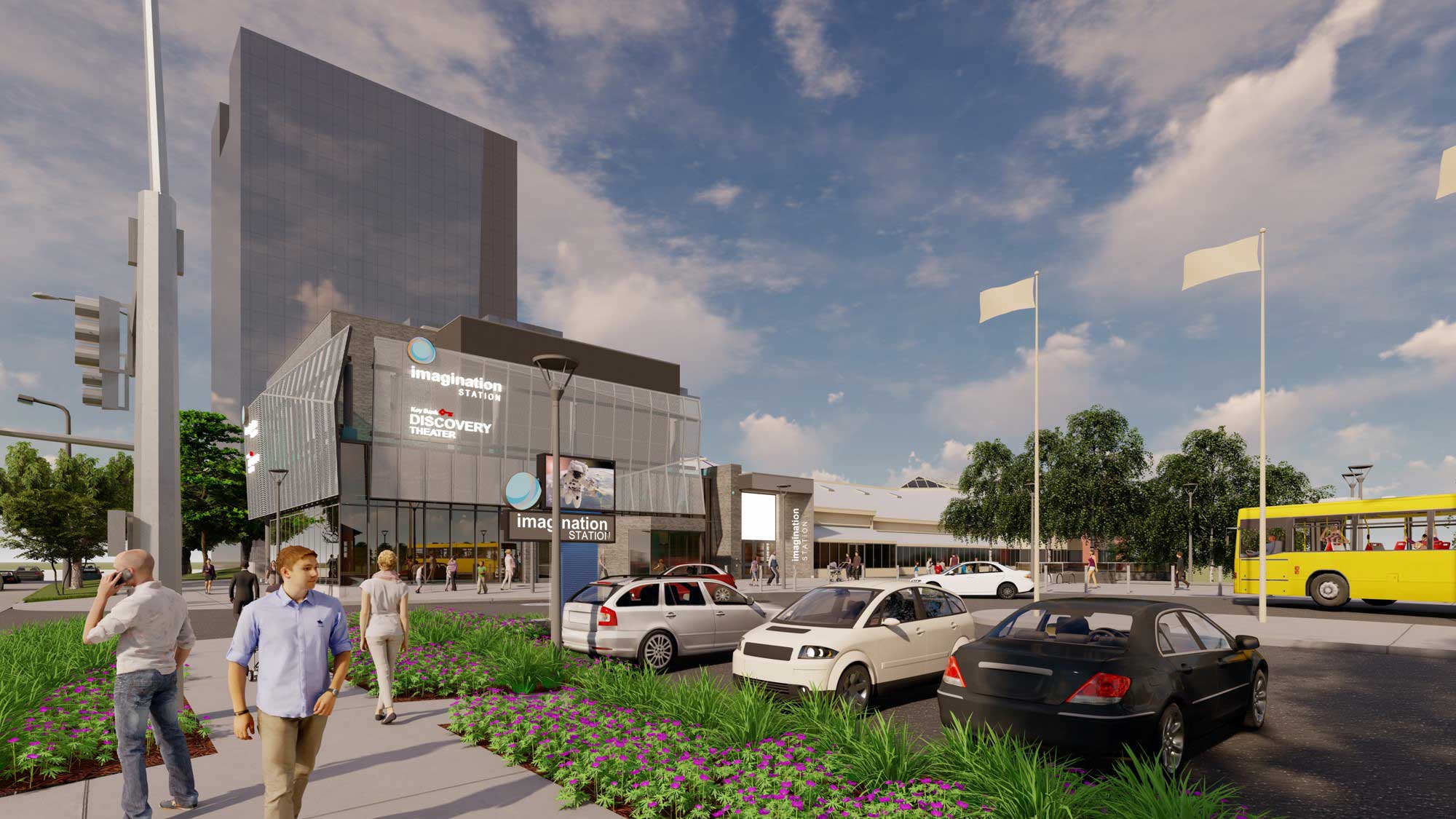 Imagination Station's address of 1 Discovery Way may not be listed on your map. You may choose to use the address – Summit St. and Adams St., Toledo, OH 43604, or the link below for detailed directions to Imagination Station from any location. We suggest checking for road construction before your trip.
ADDRESS
1 Discovery Way
Toledo, OH 43604
QUESTIONS?
Have questions about directions or parking at Imagination Station, click the link below!