Make your get together unforgettable at Imagination Station, Toledo's Science Center. We have everything you need to make planning your business, family or school function easy and convenient. Your party or meeting will be the most fun you and your guests will have all year.
An Unforgettable Setting – interactive spaces and a riverfront view.
Entertainment – hundreds of hands-on exhibits to explore and options for science demonstrations and activities.
Full-Service Catering – great food for any occasion.
Convenience - located centrally in downtown Toledo.
Whether you are hosting your employees and their families or entertaining business partners, Imagination Station can accommodate your individual needs, including food, drinks and exciting experiences.
Call our Visitor Service Manager at 419.214.9122 to book your party or meeting today!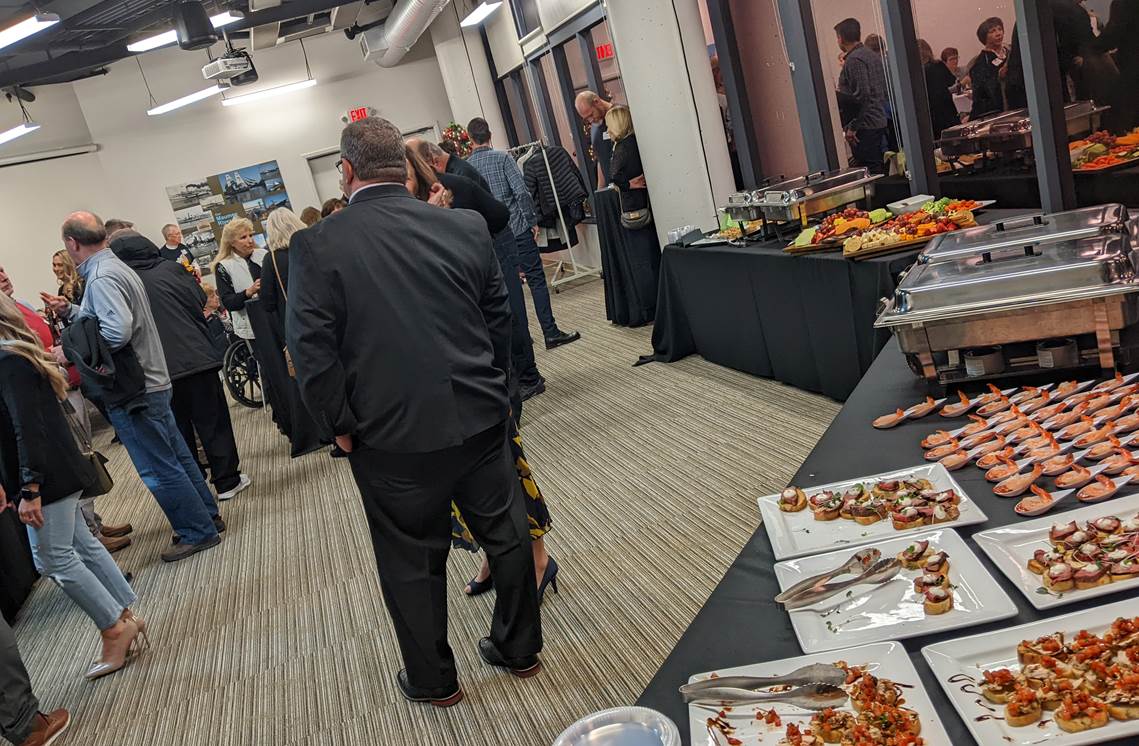 Corporate Events
If you're looking for a space with a unique atmosphere buzzing with energy that inspires creativity and encourages fun - look no further! Reconnect and re-engage in company objectives and teamwork with a professional development conference or team building day, or treat your team to a family day or holiday party that's out of this world.
Conference and Convention Visitors
Welcome to the Glass City! Conveniently located in downtown Toledo, Imagination Station is a great place to hold breakout sessions or just take a break. We're also the perfect place for accompanying spouses and families seeking a fun alternative to hanging out at a hotel.
Special Events
Make a splash (or crash, or boom) at your event! Host your next family reunion, anniversary party or other large gathering at Imagination Station. Rent a private space for your group and enjoy the science center by day, or get the place to yourself with a full-building evening rental. Add an Extreme Science demonstration for an extra burst of fun!
Imagination Station
Perfect for corporate parties and conference receptions, a full building rental includes all exhibit areas and conference rooms. Your guests can ride the BOYO, take a spin on the High Wire Cycle and try hundreds of hands-on exhibits. Our Extreme Scientists can take your event to the next level with a customized experience like no other.
Rent one room in our building or the whole thing!
We can customize your rental to your specific needs!
Riverfront Room
Looking for a room with a view, look no further. Riverfront with its floor-to-ceiling windows offers an incredible view of the Maumee River.  It is AV-equipped with PC-compatible projection equipment.  This room is perfect for business meetings, small group discussions, and after-hour events.
Kaleidoscope Room
Perfect for team meetings, conference breakout sessions, baby showers and larger family gatherings.
H2o Cafe
Enjoy an evening like no other at the only waterfront bar and grill on this side of the Maumee River. Take in riverfront views as your group enjoys drinks and dinner on our patio. Make your party memorable with a science demo with our Extreme Scientists.
KeyBank Discovery Theater
Host an event in the science center's state-of-the-art theater! The KeyBank Discovery Theater seats over 250 and features a 58-foot-wide screen perfect for lectures, presentations, sporting and special events or viewing one of your favorite feature films together.
Full Building Rental 
Enjoy the entire science center with your group after hours.
Think Tank
Private team-building opportunity.