Take STEM Learning Outside of the Classroom!
Field Trips are the best way to fully explore all that Imagination Station has to offer. Unfortunately, schools don't often have the flexibility of time, equipment and/or consumables to facilitate hands-on experiments in the classroom. That's where Imagination Station comes in.
Our merging of educational styles, formal and informal, helps to drive home the concepts that you deliver in the classroom. Plus, all of our educational programmings are aligned with state standards in both Ohio and Michigan - helping you meet grade-level requirements.
The best part is that students love to visit and they have so much fun they forget they're learning!
Imagination Station is your partner in education, and we want to support your classroom instruction with a field trip or workshop delivered to your classroom, science activities, science resources and more!
We continuously review our offerings and respond to the changing science standards for teachers - providing new experiences for your students and helping you deliver science concepts in a new way.
Field Trip Rates*
Lucas County Rate – $7
Non-Lucas County – $8
Certified Teachers – FREE with proper ID
*County is determined by site location
Add on a Think Tank Workshop!
45-minute Think Tank Workshops address specific content that can be difficult to teach in the classroom.
Dissect a cow's eye, create a light-up badge and get hands-on with the food web.  There's a science-stuffed topic for everyone!
Student Cost*: $5 per participant (Minimum of 15 students per session, maximum of 30.)
In accordance with COVID-19 guidelines, masks are required for all Think Tank Workshop participants.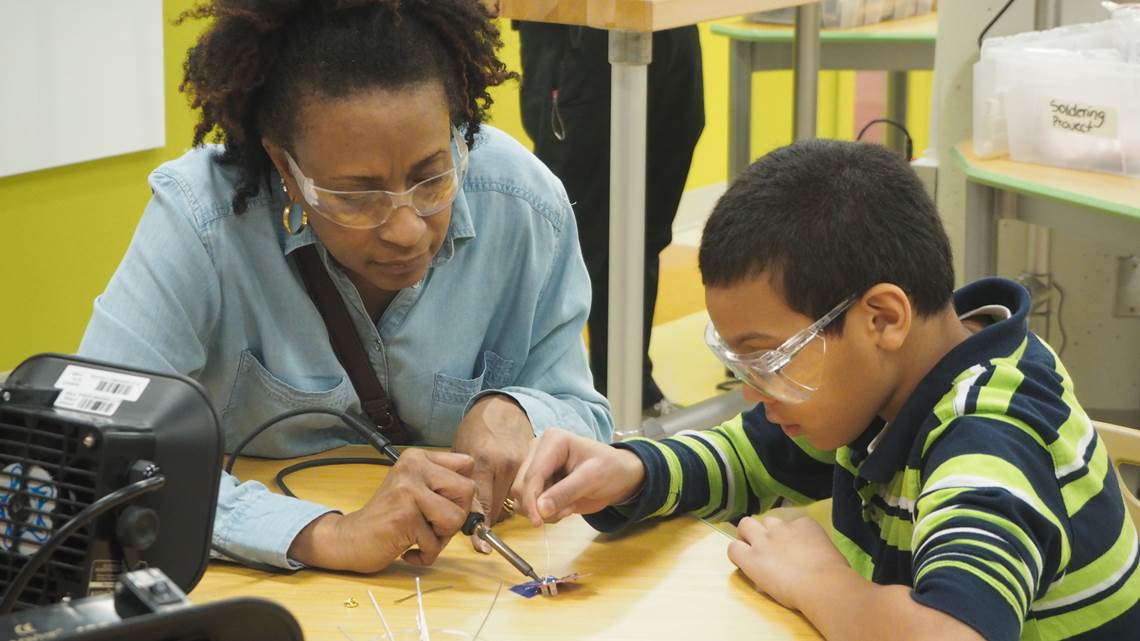 Payment Options
Credit Card: Payment may be made over the phone. We accept MasterCard, Visa and Discover. The deposit should be made as soon as possible after receiving the tentative invoice to secure your date.
Check: Please mail to Imagination Station/1 Discovery Way/ Toledo, OH 43604 Attention: Reservations. Please provide a copy of the invoice. The deposit should be made as soon as possible after receiving the tentative invoice to secure your date.
Purchase Orders: Must be an approved, signed purchase order for the full amount. Please provide the invoice number, school/group name and date of visit. Must be faxed to Imagination Station as soon as possible after receiving the tentative invoice to secure your date to 419.255.2674, Attention: Reservations.
If bringing a check with you the day of your trip, we will issue passes for any overpayments. Refunds are not possible.
Cancellations
If you must cancel a reservation, you must call and talk to a Reservation Specialist at 419.244.2674 ext. 250, and you will be given a cancellation number. The policy for cancellations is:
If it is prior to 2 weeks before your visit, you will receive a full refund.
If it is within 2 weeks of your visit, your 10% deposit will be forfeited.
If you do not cancel with our Reservation Specialist and have not been given a cancellation number, the next time you or your group/school calls to reserve, you/they'll be required to pay the deposit at the time the reservation is made.
If a student is unable to attend a scheduled field trip that takes place and they have been paid for, discount passes for future visits to Imagination Station will be made available for those students. Refunds are not possible.