Admission
We're so excited to welcome the public back to Imagination Station to discover the wonders of science!
So much has changed since we saw you last including the addition of the spectacular KeyBank Discovery Theater. We've also made changes to our operations for your health, well-being and peace of mind throughout the science center following local and state COVID-19 recommendations.
We remain committed to making informal science education accessible to everyone, which is why virtual activities, programs and events will continue even after the doors open to the public. Families can still enjoy monthly Just Tinkering activities, book a virtual workshop or birthday party and even book small group rentals during in the evenings. It is important to our Team that everyone feels comfortable exploring science.
Please see our Reopening Responsibly page to find out what you need to know before your visit, how to get here and where to park.
*Please note that some of the photos on our site were taken prior to the COVID-19 pandemic.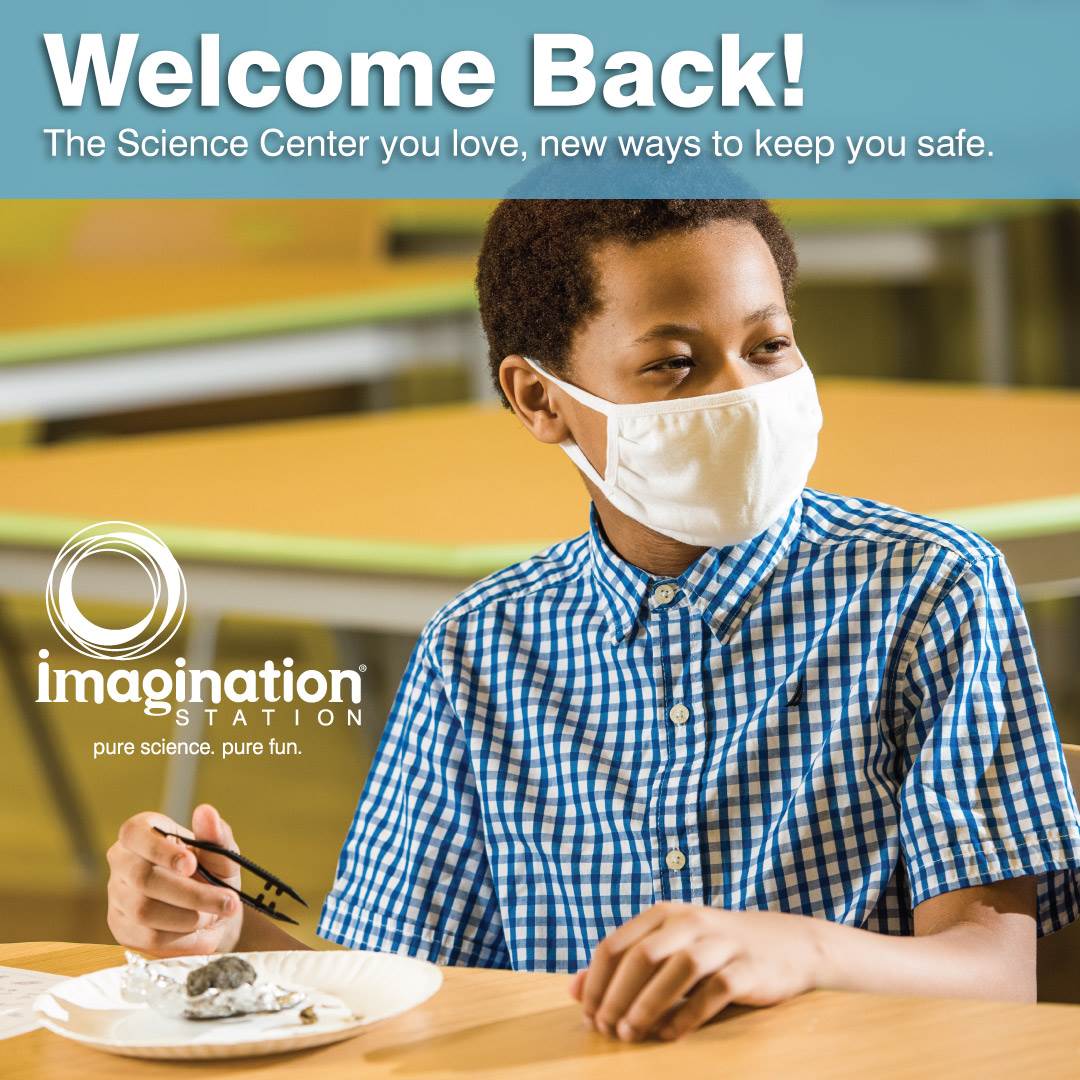 Hours of Operation 
Tuesday - Saturday - 10am-5pm
Sunday - noon-5pm
The science center is CLOSED on Mondays.
Science Center Admission
Big Kids (13 – 64): $14
Seniors (65+): $13
Kids (3 – 12): $12
Children 2 & under: Free
Check out our special discounts below.
Theater Admission
Educational Films
Big Kids (13-64): $6.50
Seniors (65+): $6.50
Kids (3-12): $6.50
Children 2 & under: Free
Members: $4.50
Check our special summer offer for Lucas County children below.
Combo Admission
Science Center + Theater
Big Kids (13-64): $19
Seniors (65+): $18
Kids (3-12): $17
Children 2 & under: Free
Discounts
Group Discounts
Discounts apply for groups of 15 or more. Groups must register at least 3 weeks in advance and make a deposit to receive the discount. Please reserve online. If you have any questions, please call a Reservations Specialist at 419.244.2674 ext. 250.
Other Great Discounts
The science center offers special savings to Lucas County residents, teachers and active military. More information about these discounts is below. All discounts require proper ID and cannot be combined with any other offer. 

If you have questions about these discounts, please call 419.244.2674 to speak with a Visitor Service Representative on Tuesday – Saturday, 10am – 5pm and Sunday Noon – 5pm.
Lucas County Residents 
$2 admission discount
FREE Saturday films in the KeyBank Discovery Theater for Lucas County kids, 12 & under through September 6.
FREE Saturday admission* to the science center for Lucas County kids, 12 & under, with paid adult admission.
       *Limit 2 children per adult.
Teachers 
Teachers receive FREE science center admission.
Teachers receive a 10% Membership discount.
Military 
Active Military personnel of all branches receive FREE science center admission.
Active, Inactive and Veterans of all branches receive a 10% Membership discount.