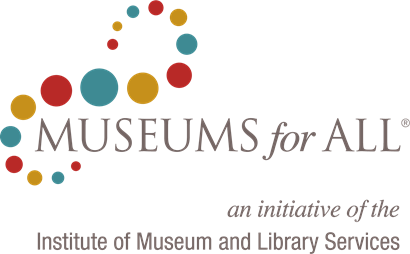 Imagination Station is a proud member of Museums of All!
This program expands access to museums by offering $3 admission for families (up to 8 people) receiving food assistance, also known as SNAP or WIC benefits.
We believe that science is for everyone and this program is focused on removing the cost barriers to visiting museum and cultural centers giving more families the opportunity to experience the wonders of science, technology, engineering, arts and math.
Frequently Asked Questions
What do I need to bring with me?
When you arrive, stop at the Visitor Service desk and show them your SNAP EBT or WIC card and a photo ID to receive the Museums for All admission price. Museums for All admission can NOT be purchased online.
Does Museums for All admission include traveling exhibitions and the KeyBank Discovery Theater?
Museums for All is for admission to the science center only. Tickets to the KeyBank Discovery Theater and travel exhibition admission are not included.
Do I pay with my SNAP EBT or WIC card?
No, your card is only for identification to show your family meets the criteria. Any admission costs must be paid with cash or credit card.
I have one SNAP EBT or WIC card. How Many people are included with my card?
Each SNAP EBT card will allow up to eight people to get the Museums for All rate.
Can I use my SNAP EBT or WIC card in another state?
Museums participating in Museums for All will accept SNAP EBT cards from any state.  Many of the participating museums will accept WIC or some other form of identification, but they are not required to do so by the Museums for All guidelines.  Please note: Each museum is a little different, so we recommend checking the website of the museum you plan to visit for more information.
Science is for Everyone
Museums for All, an initiative of the Institute of Museum and Library Services, was funded in part by grants from the City of Toledo Parks and Youth Services, Lucas County Board of Commissioners and the McMaster Foundation with additional support from CN Railway and Toledo Jet.