Build. Fiddle. Create.
Do you like working with your hands and finding out how things work?  Imagination Station has the program for you. Join us in the IDEA Lab at the science center and embrace your creativity and make something that is uniquely yours. Celebrate innovation and ingenuity and tap into the scientist, engineer and artist within. We can't wait to create with you!
Tinkering workshops are available every day* and are included in the price of admission.
*Imagination Station is closed on Mondays.
September - Wandmaking 🧙🏽‍♂️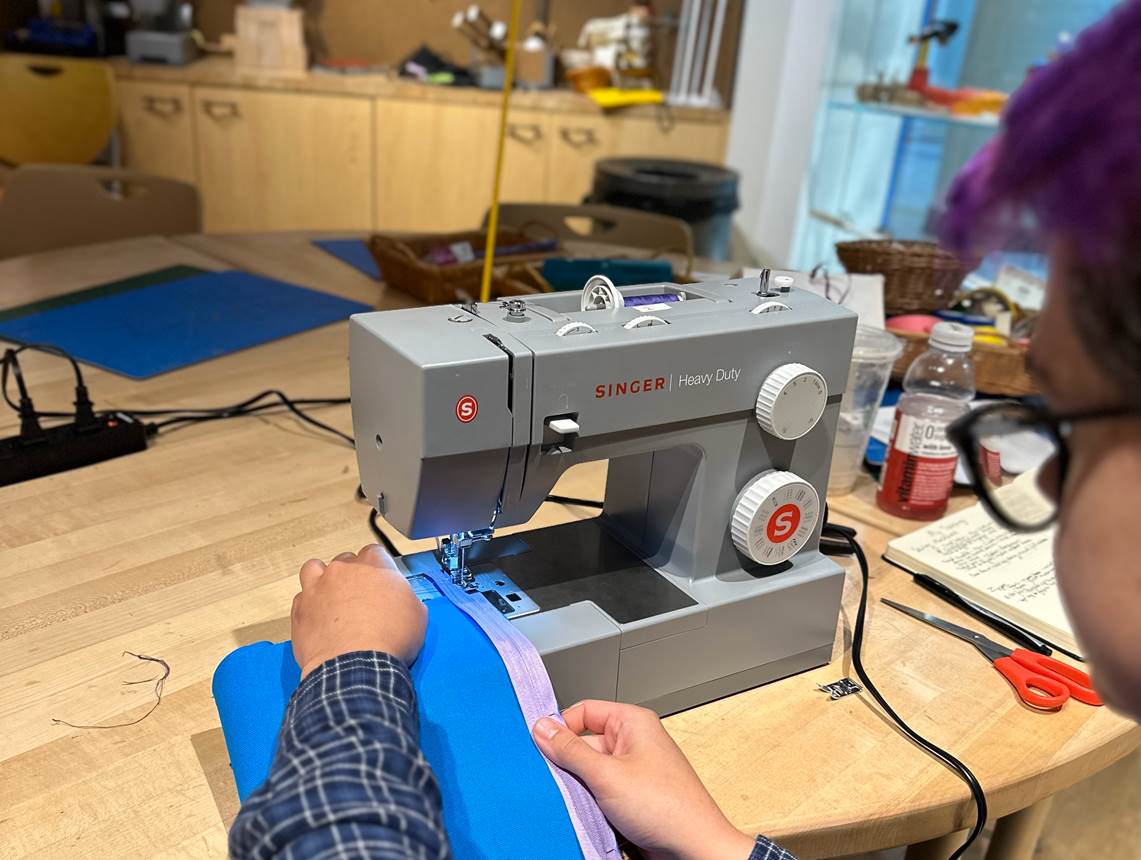 August - Bag Making
It's time to get crafty while learning the basics of sewing! From exploring the ins and outs of a sewing machine, to designing your very own bag, this workshop is a great opportunity to get creative.  With your new skills you can also design, a fancy pillowcase, clothing and many other crafts in the future!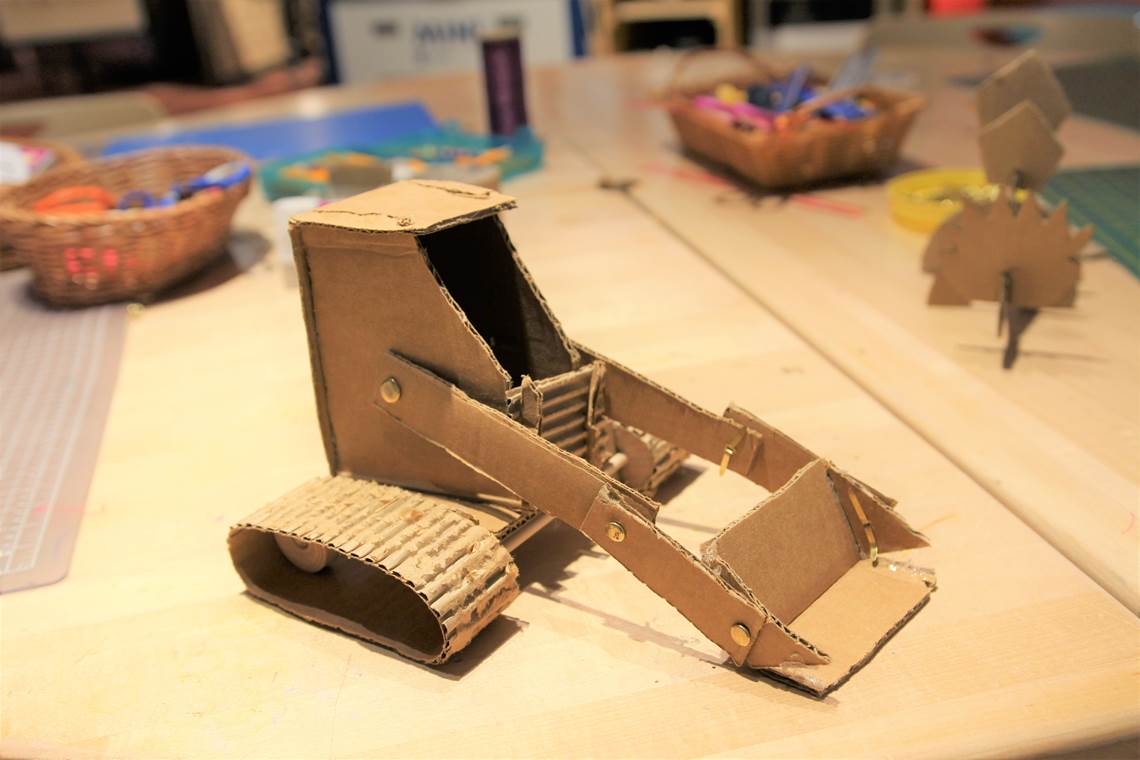 July - Cardboard Creations
Put your creativity to the test and turn an ordinary cardboard box into something amazing!
With a little imagination, some simple tools and a few engineering principles something as simple as cardboard can become just about anything you want it to be. Whether young or all grown up, use the engineering design process to imagine, plan, build, adjust and improve your project.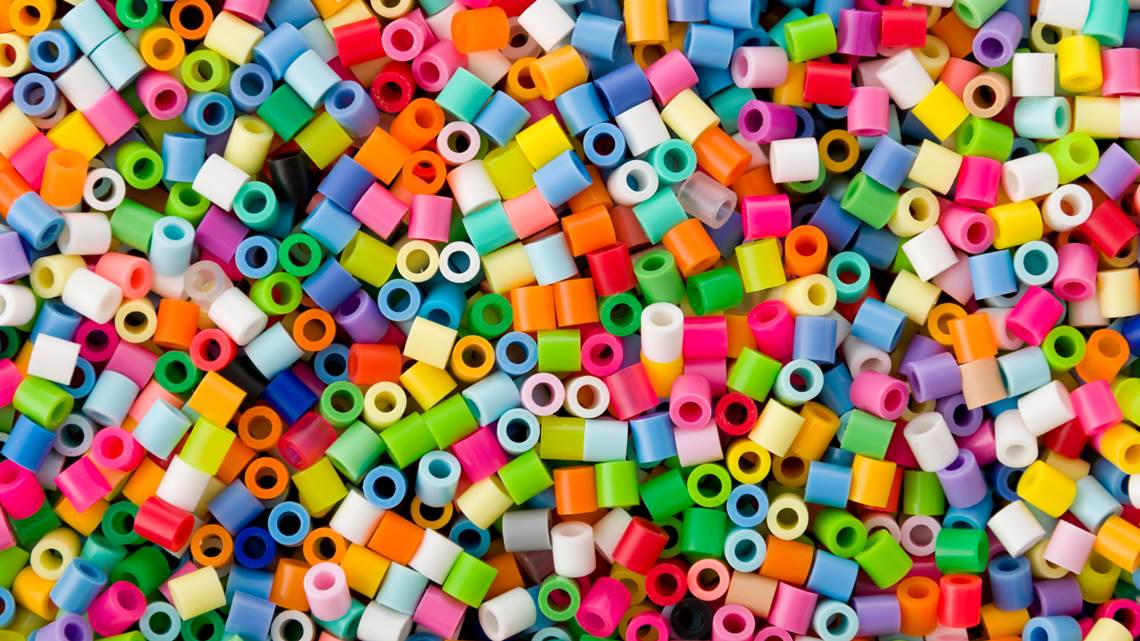 June - Pixel Melts
This activity is hot - literally!
We're fusing engineering and art to design one-of-a-kind creations using beads, heat and a whole lot of creativity. These heat activated beads can create patterns, your favorite pixel characters and hundreds of other abstract designs. Bring your artistic visions to life in new and exciting ways at Imagination Station.
There are limitless possibilities - what will you create?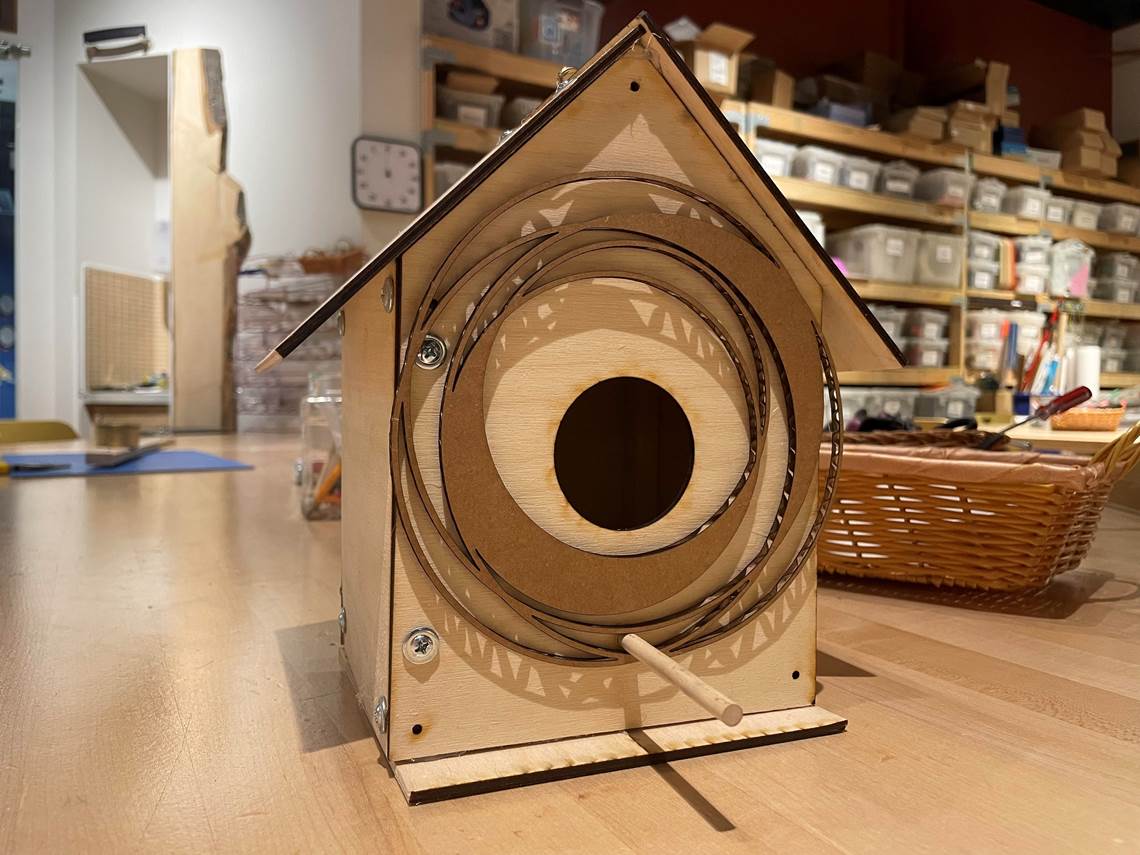 May - Birdhouses
Spring has sprung and birds are house hunting!
You can help them settle in with this month's Tinkering Space activity: birdhouses! Build your very own birdhouse and give some of your feathered friends a safe and warm place to nest. Using wood and recycled materials you can get creative and bring any vision to life. And don't worry, we'll be there to help you with your design.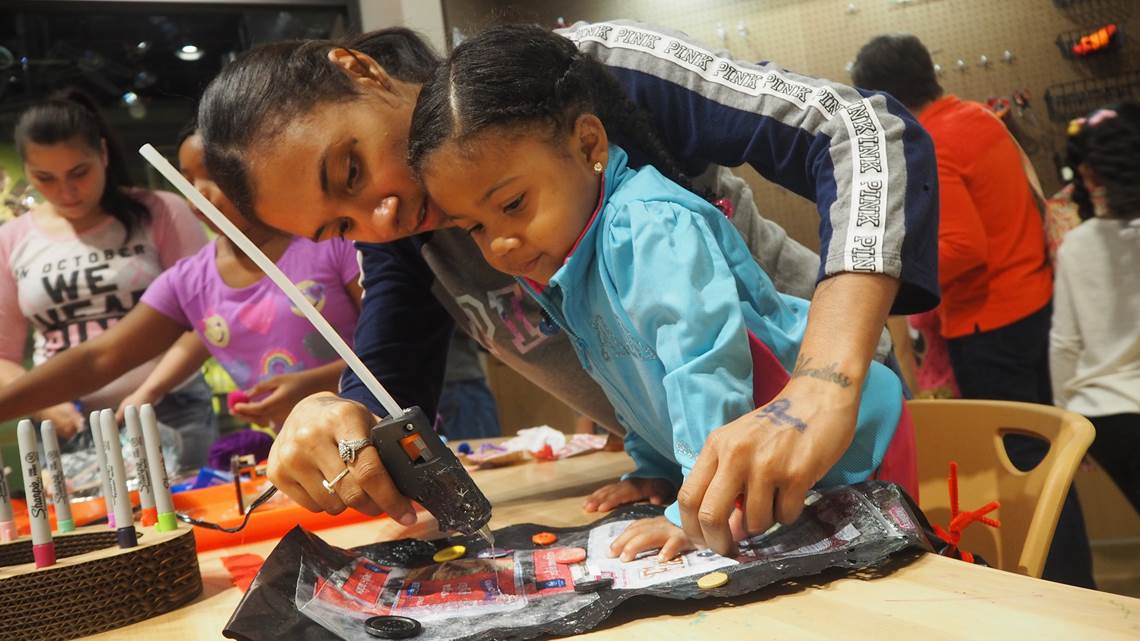 April - Trashformations
Instead of throwing plastic grocery bags away, let's turn them into something cool, useful and precious. Let's make a Trashformation! Make your own plastic fabric by melting plastic bags together with a common household iron. Once you've forged your new plastic fabric you can use sewing machines, hot glue guns and other tools to make your creation truly remarkable.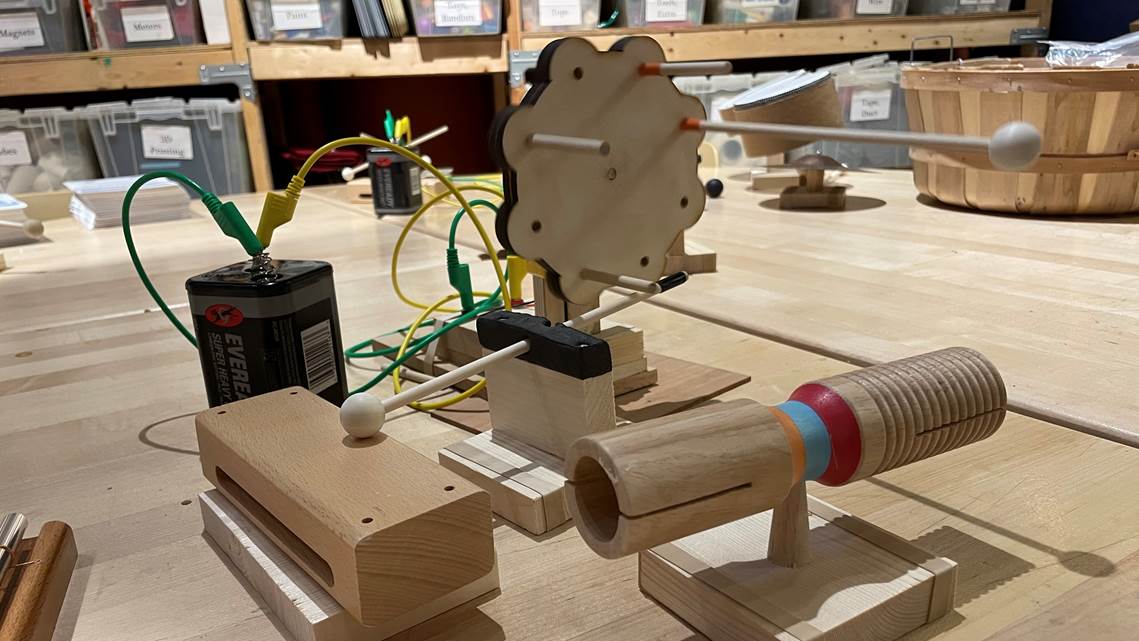 March - Music Blocks
Your favorite music, no matter the genre, is made up of a combination of melody, harmony and rhythm. We're going to explore sound in a brand new way with Music Blocks in Tinkering Space.
Bring your ideas and we'll use mallets, pinwheels and other materials and mechanisms to play with rhythm. How can we make a rhythm go faster or slower? What other patterns can we create? The sky's the limit!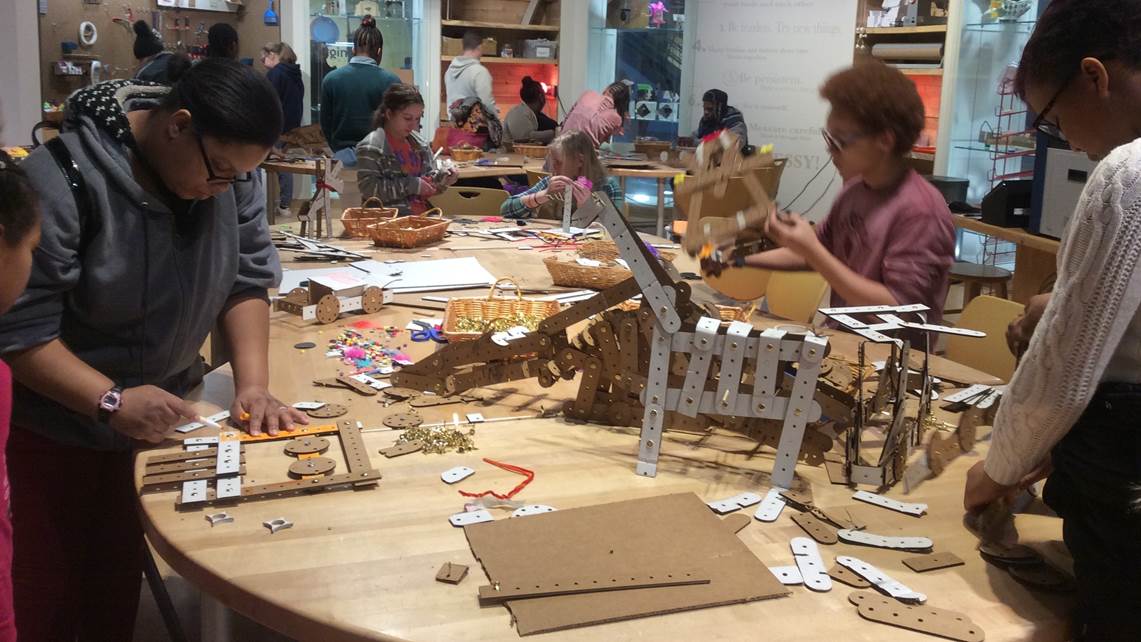 February - Linkages
What do folding chairs, scissors, window hinges and puppets have in common? They all use linkages!
Linkages are a group of parts connected by hinges
that allow each part to rotate and move. Some linkages, like scissors, are simple, while others can be more complex, like the mechanical characters in
amusement parks.
Explore motion in new and exciting ways. Create a whimsical creature with wings, a chomping share or a dancing robot - the opportunities are endless!
January - Papertronics
Circuits make up our phones, computers and maybe even one day our clothes! Learn how to complete a circuit and then use your creativity and imagination to make your own electronic collage! If you can dream it, we can help you bring it to life.
Every personality will find joy doing this science project.
Thank you to our Educational Partners!