Science Behind the Scenes
KeyBank Discovery Theater
May 25, 2022
From the outside, the KeyBank Discovery Theater gives Imagination Station a new look. It's a fresh new take on our iconic riverfront building and it only gets better when you walk through the door.
The GIANT screen, superior sound system and unparalleled technology take moviegoers on awe-inspiring adventures almost every day. Most recently those trips included Mars in the film Journey to Space 3D and the forest floor in Tiny Giants 3D.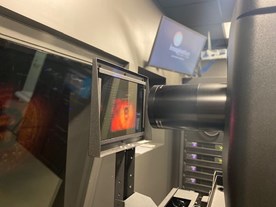 What you may not know is the amount of equipment and maintenance that is needed to create these one-of-a-kind experiences. Next time you stop by, look up. Behind that window at the top of the stairs is where it all begins: the projection room.
Located up three flights of stairs you'll enter a 10-foot by 30-foot room that contains everything that is used to bring the magic to the big screen. From 3D movies and Hollywood favorites to connecting to a gaming console or live streaming a Mars rover landing, the theater can do almost anything. Have we mentioned how good it looks? The state-of-the-art, 4K resolution digital theater provides an exceptionally sharp picture.
One of our favorite features is the theater's 3D capabilities. All you need is a pair of 3D glasses and the equipment does the rest … but how? Here's the science: polarizing filters slide over in front of the two laser projectors – one projector for each eye.  When a visitor watches a movie with the 3D glasses on, each eye only sees the image from one of the projectors.  Your brain then puts the two images together creating the 3D effect.
Now, during your next visit to this amazing attraction, you can impress your friends and family with some behind-the-scenes knowledge of how it all comes together to wow audiences of all ages.