Cub Scouts Fun and Adventure
Imagination Station's Cub Scout Workshops inspire scouts to explore new interests through thought-provoking content, engaging hands-on activities and exciting STEAM learning challenges. Toledo's Science Center has created opportunities to meet the needs of every group through on-demand and on-site workshops. We're here for you!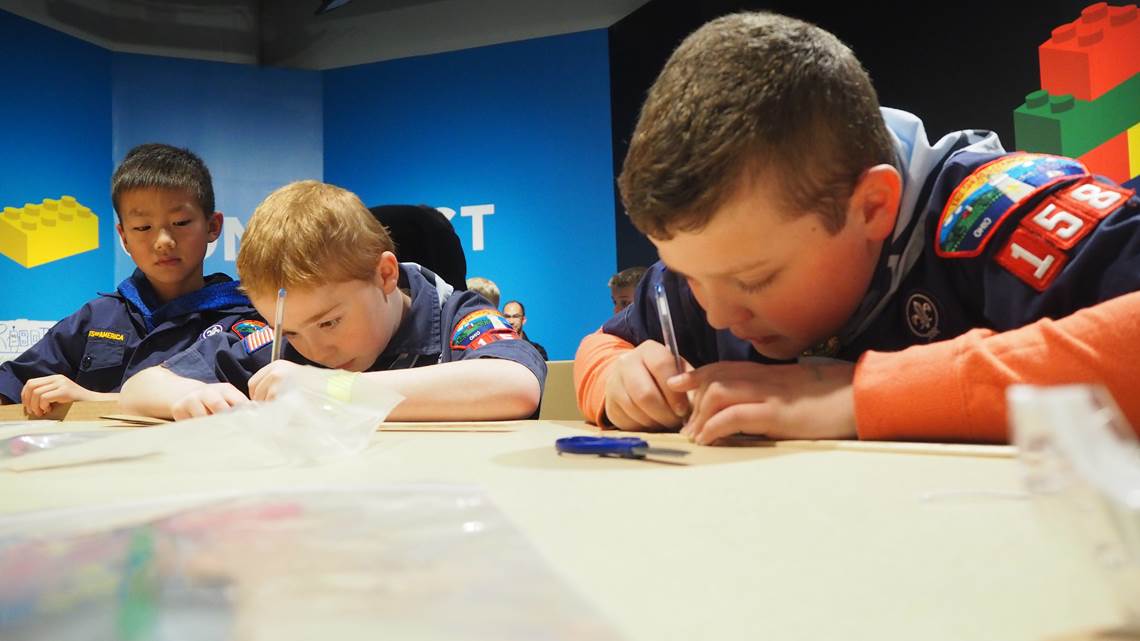 On-Site Workshop Pricing
Workshop + Admission - $200
Up to 10 scouts and three adults 
Additional scouts - $20/scout and all additional adults pay group pricing
From Lions to Webelos we have workshop options covering a range of topics from robotics to space, and with on-demand programming, your den can pick the date that works best for you!
Lions
Gizmos and Gadgets (60 minutes)
Experiment with gears and wind power and explore how things work.
Tigers
Sky is the Limit 
Travel into the universe to learn about the stars and stories behind the constellations.
Wolves
Digging in the Past 
Travel back in time to discover the world of dinosaurs. Using scientific inquiry, become a paleontologist and dig for fossils to learn how scientists study creatures that disappeared 65 million years ago.
Bears
LEGO Robotics 
Learn about tasks performed by robots, build a robot hand, dabble in drag-and-drop coding using our WeDo 2.0 LEGO robots and earn your robotics badge.
Webelos
Engineering 
Explore different fields of engineering and see how they form our past, present and future. Learn about the engineering design process, create your own set of blueprints and construct two different projects.
Game Design 
Learn all about the process that game designers use to create your favorite games, then become a designer and create a brand new game to play!
Register TODAY!