Being a Cub Scout means ... 
Enjoying Awesome Adventures
Partner with Imagination Station to complete adventures and earn your badge of rank!
Cub Scout Workshops inspire scouts to explore new interests through thought-provoking content, engaging hands-on activities and exciting STEAM challenges. Each workshop contributes to strengthening their character, citizenship, and leadership through these experiences!
Imagination Station has created opportunities to meet the needs of every den, and with on-demand programming, you can pick the date which works best for you!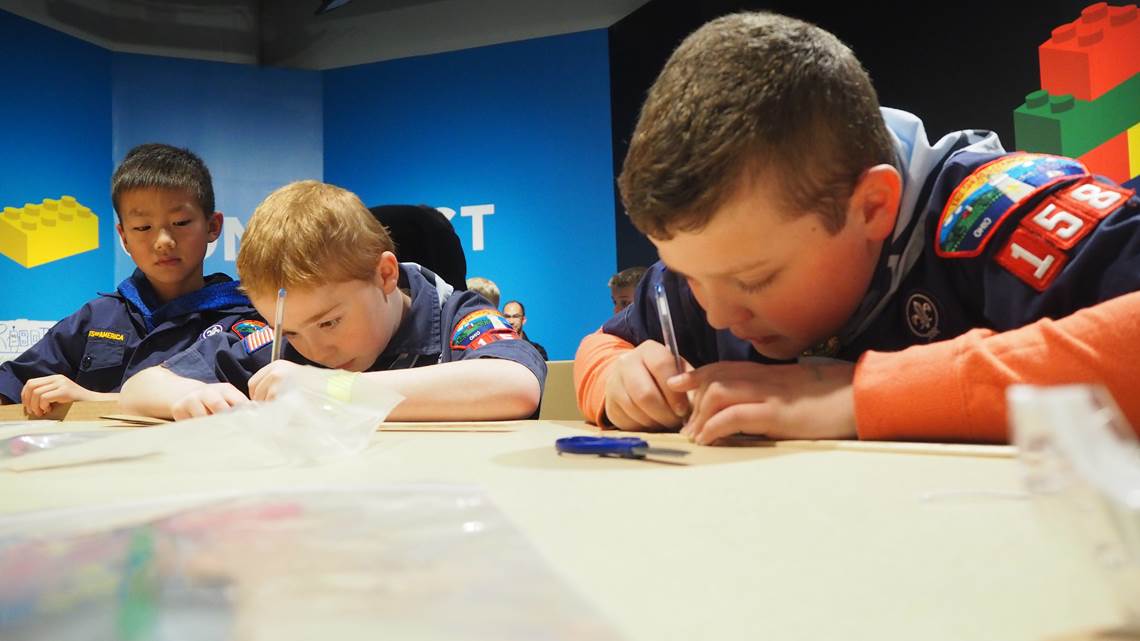 On-Site Workshop Pricing
Workshop + Admission - $200
Up to 10 scouts and three adults 
Additional scouts - $20/scout and all additional adults pay group pricing
From Lions to Webelos our workshops cover a range of topics, perfect for your elective adventures. They'll first engage in programming catered to their elective and then explore our hundreds of hands-on exhibits.
Lion Adventures
Gizmos and Gadgets (90 minutes)
Make tasks easier. Create things for fun.  Through experimenting with gears, wind power, and more, each Lion Scout explores how things work while learning basic science and engineering concepts.
Tiger Adventures
Sky is the Limit (2 hours)
Transport into the universe to learn about the stars and stories behind the constellations. In this adventure, Tiger Scouts have an immersive visit inside STARLAB ®, our giant inflatable planetarium. Get ready, the universe is waiting for you!
NEW Curiosity, Intrigue, and Magical Mysteries (2 hours)
Uncover the science behind magic tricks! Tiger Scouts discover secret codes, how objects disappear and how to perform astonishing feats.
Wolf Adventures
Digging in the Past (2 hours)
Travel back in time to discover the world of dinosaurs. Using scientific inquiry, become a paleontologist and dig for fossils to learn how scientists study creatures that disappeared 65 million years ago.
NEW Air of the Wolf (2 hours)
Discover air through play and experiments…enhancing a Wolf Scout's knowledge of the properties of air and the forces of flight. In this adventure, find out how amazing air is - all in the name of science!
NEW Germs Alive (2 hours)
Looking for an adventure that is fun, hands-on, and gross? Come learn about good hygiene and how good habits can keep everyone healthy. Wolf Scouts won't want to miss this journey through the yucky world of germs!
Bear Adventures
NEW Forensics (2 hours)
Hey Bear Scouts - - Are you observant? Can you find clues? Do you have skills to solve situations with those clues?  This adventure is all about using science to answer questions about crimes and other things that have happened.  So grab your magnifying glass, and start detecting!
NEW Super Science (2 hours)
Scientists answer questions by using experiments. Some of these experiments are fun because they use stuff that is gooey, oozy, swishy, and splashy – just the kind of stuff Bear Scouts enjoy! They learn about static electricity, color and density in the fun-filled adventure.
NEW Marble Madness (2 hours)
In this adventure, Bears learn about games and the engineering design process that use little balls of glass.  Marbles have been an important part of Scouting since its early days, and in this workshop you experience individual competition and teamwork, helping other, learning rules, and being a good engineer.
Webelos Adventures
Engineering (2 hours)
Explore different fields of engineering and see how they form our past, present and future. Learn about the engineering design process, create your own set of blueprints and construct two different projects. Webelo Scouts – put on your thinking cap, and get ready to think like an engineer!
Game Design (2 hours)
Become a game developer and have fun making and playing games. Scouts learn about programming, tinkering and design while creating a new game to play.
Start Your Adventures Today