Science After Dark On Tap: Holiday Brews
Beers and Holiday Cheer at Imagination Station!
The steps for brewing beer are some of the oldest known recipes. With four simple ingredients - barley, water, hops and yeast - brewers make beer.
­But it's not just a matter of mixing the right amount of each ingredient. A complex series of biochemical reactions must take place to convert barley to fermentable sugars, and to allow yeast to live, multiply and convert those sugars to alcohol. It's fascinating. It's delicious. It's SCIENCE!
Join us as we taste test some of the areas BEST local beers and tap the holiday kegs.
Details
WHAT: Science After Dark On Tap: Holiday Brews
WHEN: Saturday, December 3 | VIP: 6-10pm; General Admission: 7-10pm
WHERE: Imagination Station
             1 Discovery Way, Toledo, OH 43604
Breweries
Inside the Five

Maumee Bay Brewing Company

Earnest Brew Works

Patron Saints Brewery

Quenched & Tempered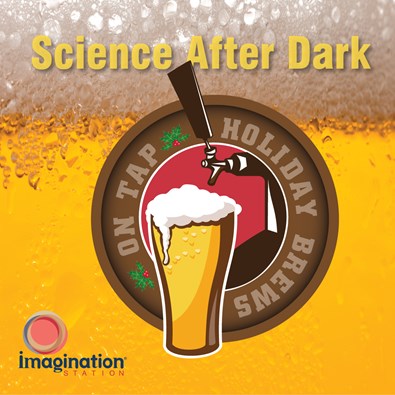 A full bar, food and additional drink tickets will be available for purchase.
VIP Tickets: $45
Includes:
15, 3oz pours of your choice
Early access to the science center and all activities beginning at 6pm
Souvenir coasters and sample glass
General Admission: $25
Includes:
7, 3oz pours of your choice
Access to the science center and all activities
Doors open at 7pm
Souvenir sample glass
Designated Driver: $10
Includes: 
Admission to the science center and all activities
Doors open at 7pm
Science After Dark On Tap: Holiday Brews is presented by: