Are You Ready to Explore Science?
Investigate, build, question and learn in our monthly Homeschool Workshops.
Each month will have two workshops: one for students in kindergarten through grade three (K-3) and another for students in grades four through eight (4-8). The K-3 grade workshops run on select Tuesday afternoons or Wednesday mornings (pick one), while the 4-8 grade workshops run on select Tuesday mornings. Both series of nine 90-minute workshops are designed around three themes.
Together we will examine prehistoric animals and ecosystems, prepare for the upcoming solar eclipse, and use science to determine the health or harm of elements in our homes and community. Each workshop features a new topic to explore–pairing a hands-on, standard-based curriculum with an unforgettable Imagination Station experience!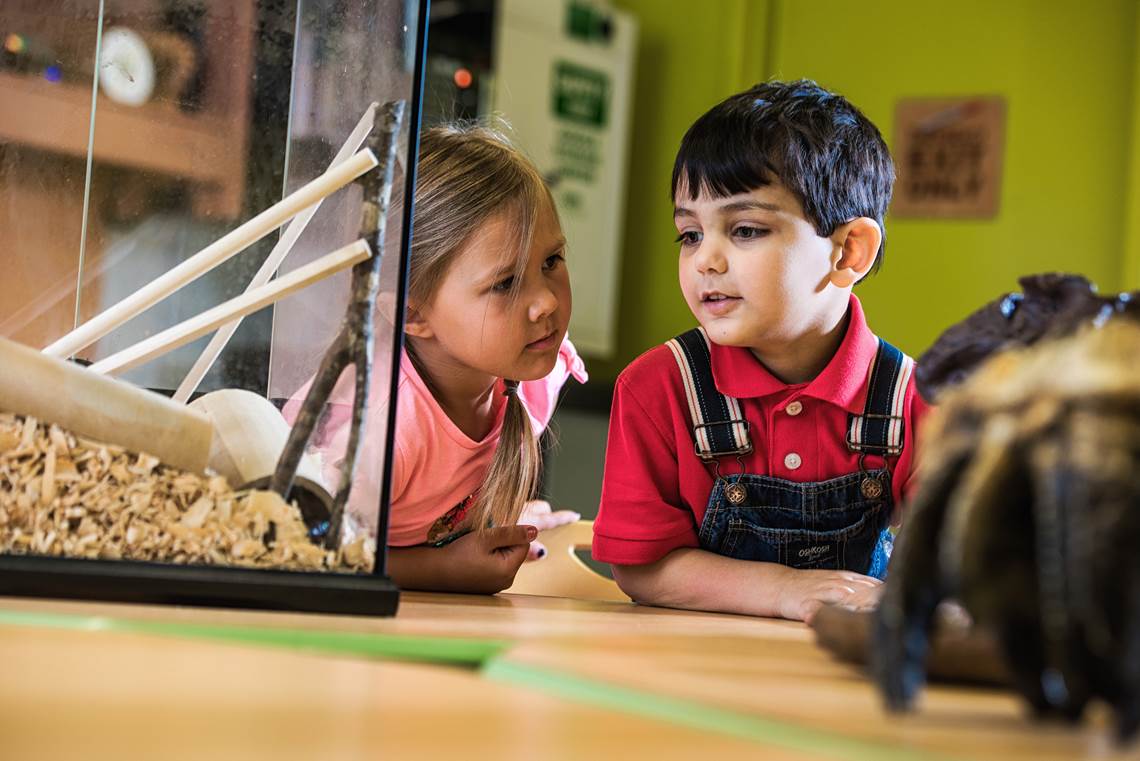 Workshop Pricing
Members: $17 per session
Non-members*: $19 per session
*Imagination Station Admission is NOT included with the workshop.
Not a member? 
Become a member and save on the cost of Homeschool Workshops. Plus receive all of our other membership benefits. Learn more about our memberships here.
Explore these amazing topics to enhance your science home studies. Purchase the entire series and save!
Living Earth

September
Time for a Change: Evolving Environments - Grades K-3
The Earth is always changing. Plants and animals have traits that enable them to survive in a particular ecosystem.  What can happen to living things as the world around them change?  Explore Earth's living history and be astonished by the way our environments have changed.
September 26 - 1:30-3pm 
September 27 - 10:30am-noon
Past & Present Ecosystems: An Interrelationship - Grades 4-8
Discover the record of ancient landscapes, climates, and organisms. Like putting together a puzzle, you will connect past organisms to those living today.
September 26 - 10:30-noon
October

 

Fossils: Records of the Past - Grades K-3
As traces of past living things, fossils have a lot to tell us. Learn how fossils were created and discover the stories they are telling us…helping you understand Earth. Learn something new by exploring something old!
October 10 - 1:30-3:30pm
October 11 - 10:30am-noon

Species Depletion and Extinction - Grades 4-8
Going, going, gone!?  Solve clues to figure out which adaptations helped prehistoric animals survive in their habitats. Likewise, unravel signs which might drive the extinction of a species.
October 10 - 10:30am-noon
November  
Dinosaurs: How do you know? - Grades K-3
Learn how paleontologists know so much about dinosaurs.  How do you know what dinosaurs ate?  Or how tall they were? Discover how physical characteristics led to a dinosaur's name.
November 7 -1:30-3pm
November 8 - 10:30am-noon

Ruling Reptiles - Grades 4-8
Millions of years ago a group of dinosaurs were on the top of the food chain.  These Ruling Reptiles reigned supreme. What made them different from other reptiles? Explore these amazing animals and the powers they held.
November 7 - 10:30am-noon
Earth & Space

December 
Sun and Shadows - Grades K-3
Let's play with shadows! Using different light sources and objects, you will experiment with how shadows are made and how their appearance can be changed. The properties of shadows will then be aligned to the sun-shadow patterns.
December 12 - 1:30-3:30pm
December 13 - 10:30am-noon

Patterns in the Solar System - Grades 4-8
Using modeling from both Earth- and space-based perspectives, you will make sense of the dynamic, three-dimensional interactions between solar system bodies. Patterns and cosmic phenomena can be observed, described, predicted, and explained.
December 12 - 10:30am-noon
January 
Earth's Orbit - Grades K-3
Round and round you go!  In this workshop, you will observe, explore and interact with materials to understand how the Earth moves around the sun. You will also build a model to demonstrate how Earth's orbit is elliptical. 
January 9 - 1:30 - 3pm
January 10 - 10:30am-noon

Planets 101 - Grades 4-8
Inner, outer, rocky, gas, ice, giant, dwarf ... such a wide range of words to describe the planets in our solar system. Discover how the planets are similar and different by experimenting with planetary conditions. Truly, the planets are as different and unique as people are!
January 9  10:30am-noon
February

 

Exceptional Eclipse - Grades K-3
This spring, Ohio will have a first-row seat to the total solar eclipse. Learn about this event and the unique features you will be immersed in.  Get personal with the exceptional eclipse.
February 6  1:30-3pm
February 7  10:30am-noon

A to Z Eclipses - Grades 4-8
Block my view of the sun?  Yes, please!   Take a deep dive into the Sun and the Earth-Moon system to learn about eclipses.  Build your knowledge of this astronomical event to truly enjoy the eclipse in April 2024.
February 6  10:30pm-noon
Clean & Healthy vs. Dirty & Harmful
March

Bugs: the good, the bad, and the ugly - Grades K-3
Bugs and insects add a lot of diversity to our ecosystems.  While some might be pests, many bugs can be helpful to us. Get past any aversion to creepy crawlies and join our swarm…and learn about your new friends.
March 5  1:30-3pm
March 6  10:30am-noon

Bacteria's Bright Side - Grades 4-8
Bacteria and germs are everywhere you go, but can you avoid them? There are actually bacteria that are good for humans too! Come learn all about bacteria, germs and ways to stay healthy.
March 5  10:30am-noon
April 
Dirt Made My Lunch - Grades K-3
Without dirt, we wouldn't have lunch. It is where plants grow and, in turn, support animals. Let's explore the fascinating world beneath our feet as we investigate microorganisms, earthworms, composting and gardening. Let's discover dirt!
April 9  1:30-3pm
April 10  10:30am-noon

Kitchen Chemistry - Grades 4-8
A kitchen is one big chemistry lab. Join us to dig deeper into the foods we eat and learn how ingredients react to form new compounds, as well as different tastes, smells and textures. Physical and chemical changes can be delicious.
April 9  10:30am-noon


May 
Water: from crystal clear to super slimy - Grades K-3
From awesome to awful, water represents many feelings.  Water is known as the source of life, but what can happen if water is unclean?  Discover the many grades of water and ways to ensure conservation and cleanliness.
May 7  1:30-3pm
May 8  10:30am-noon

Science of the Disgusting - Grades 4-8
Gross, smelly, noisy – our bodies can be disgusting at times. Want to know how and why?  Join us for this workshop where your senses will be pushed to the edge.  We promise will be more riveting than revolting!
May 7  10:30am-noon
Need more information?
Call at 419.244.2674 ext. 150
Cancellation Policy
Workshop cancellations are non-refundable; however, registrations are transferable. We reserve the right to cancel workshops if minimum registration numbers are not met, and refunds would be issued or applied to another workshop. We can give a pass, good for admission only, but the workshop is non-refundable.