Putting the 'A' in STEAM
October 19, 2021
by Jenny Roe, Program Development Manager
Science, Technology, Engineering and Math, or STEM, subjects are essential skills for today's workforce and to create the advances in technology, medical care, and so many other areas for the future. One skill that often gets overlooked, however, is Art. Artists can think outside the box and see possibilities that others may not. Art does not just mean painting, sculpture, theater or music, although these are wonderful things. There is art in the way a biologist can look at the structure of cells, engineers design structures or computer chips, mathematicians find the patterns to explain the relationships between shapes or decrypt codes, and doctors and medical researchers create a new way to save a patient from a brain aneurysm.
Imagination Station believes in the importance of STEAM (Science, Technology, Engineering, Art and Math) education and is proud to collaborate with a number of organizations that promote exploration and creativity.
Glass City River Wall Collaboration
In August, the science center partnered with the Glass City River Wall mural project. Throughout the month, Toledoans joined in the creation of a community mural telling their own personal Toledo Story. Tiles represented favorite restaurants, sports teams, attractions and family traditions that were unique to each visitor. Now, the larger mural is on display inside Imagination Station and celebrates the rich history of Toledo. Of course, the underlying goal was to offer a creative exercise that helps us all recognize the value and power of storytelling. 
You can find out more about the country's largest mural, here.
The Arts Commission Partnership
On your next visit to the Imagination Station take some time to enjoy the murals in the tunnels leading to the science center and the murals outside in Festival Park and on Water Street. These projects have been done through a strong partnership with the Arts Commission. Each piece tells a different story and ties it back to science.
Butterfly Mural in the Concourse
This larger-than-life-size mural, On the Wings, was created by local artist Ken "Phybr" DuShane. The butterfly theme is meant to reflect the downtown Toledo area's resurgence. While the energetic colors are non-native, the artist was inspired by local flora and fauna.
Butterflies:
Monarch
Eastern Tiger Swallowtail
Pipevine Swallowtail
Zebra Swallowtail
Common Buckeye
Plants:
Spiderwort
Brown Eyed Susans
Milkweed
Spinulose Wood Fern
Wild Ginger
Young Artists at Work Mural - Junction tunnel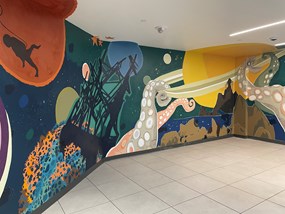 Both scientists and artists share a passion for discovery and a desire to understand and explore unknown territories. This mural titled, Finding Our Space, features an imaginative combination of two of the least explored frontiers, the deep sea and outer space. The work explores how human life fits into unknown places, giving visitors the excitement of walking into a new world.
This bold and immersive piece is the collaborative vision and creation of artist Leah Tumerman and students participating in the Arts Commission's Young Artist at Work (YAAW) program.
Leah Tumerman is a painter, muralist and illustrator from Vallejo, California. A studio artist as well, she is dedicated to the public in public art, committed to accessibility and creating pieces that everyone can engage with regardless of socioeconomic group, age, race or gender.
Since 1994, YAAW has offered paid summer apprenticeships to area teens to learn creative skills, foster artistic self-expression and develop a quality work ethic.
Outdoor Mural from Water street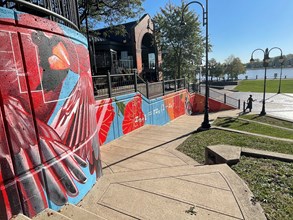 Juuri an Oklahoma City artist was hired by the Arts Commission to create this piece.
The mural features realistically painted cardinals (Ohio state bird) and stylized carnations (Ohio state flower) in a dynamic balance. Graphic overlays on the piece suggest an engineering diagram. Complex mathematical formulas are also used as a design element in the piece to add interest.
"I wanted this piece to have elements that visually gave clues about the Imagination Station in close proximity, but still had a feeling of a street art piece, which hopefully people will be excited to photograph and share on social media, Juuri said. "Some themes I hope this piece conveys are flights of imagination, possibilities and joy of nature.
The Arts Commission allowed Imagination Station to provide formula and diagram suggestions for the mural. The Team chose a formula called the Logistic Map which is the basis for deterministic chaos theory. It can show patterns in many complex, seemingly chaotic systems in nature that fit well with the birds and flowers.
As for diagrams, Imagination Station suggested Logic Gate diagrams which are the building blocks of digital circuits that represent the ever-evolving technological side of science.